Medical services for residents of Umguza district, in the south-Western part of Zimbabwe, are often difficult to obtain due to the long distances required to travel for healthcare. For many it is a 15 to 20 kilometre (9 to 12 miles) walk to the nearest healthcare centre, which can take all day -- often requiring villagers to walk home at 10 or 11 o'clock at night. Many times, during a healthcare emergency, there is no ambulance available.
Seeking for solutions, the Umguza Rural District Council reached out to The Church of Jesus Christ of Latter-day Saints.
In response, The Church of Jesus Christ of Latter-day Saints provided $297,000 from its humanitarian fund for the construction of a new health clinic. Along with the clinic, a new mother's shelter, staff housing and a solar-powered fresh water supply was also constructed. The clinic will provide services for pregnant mothers, HIV treatments, immunizations for children under five, and medical service for the elderly.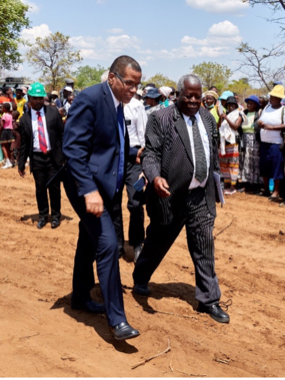 To celebrate the opening of the clinic, hundreds of residents attended the festivities which included speeches, a marching band, and a community dinner.

Elder Denelson Silva, the Second Counselor in the Africa South Area Presidency of The Church of Jesus Christ of Latter-day Saints, attended the handover ceremony. Addressing the crowds, he proclaimed that "to love is to act". He added, "Jesus Christ taught that we need to love each other" and that the main objective of the Church's humanitarian work is to bless Heavenly Father's children.

Letwin Mkwebu, the Umguza District Nursing Officer, said, "this clinic has come when we really needed it". She went on to say that as a health practitioner when you see your community suffering and the solution is a great distance away, it pains you that you cannot serve, but with this new clinic she is now able to serve her community.

Also attending was the Honorable Richard Moyo, Minister of State for Provincial Affairs and Devolution. He expressed his gratitude for the new clinic and said "I applaud the community together with The Church of Jesus Christ of Latter-day Saints for the commendable work you have done here… [You] have achieved a great milestone in ensuring that the residents of ward 19 have access to health service close to where they stay".

Isabell Nube from one of the nearby villages says that the news of a brand new clinic in close proximity is so welcome and unexpected that she is "still now living a dream".