"Please continue to pray for us," pled a 42-year-old widow whose husband was killed by rebels in front of their six children because they suspected him of cooperating with the Congolese government.
The Church of Jesus Christ of Latter-day Saints gave a substantial financial contribution to the Congolese humanitarian organization Sowers of Hope, along with other groups, to help alleviate the suffering of persons displaced by the ongoing fighting in North Kivu province in eastern Democratic Republic of the Congo. Between December 2022 and January 2023, brave members of this organization distributed emergency supplies to 18,900 displaced persons in refugee camps scattered across the region.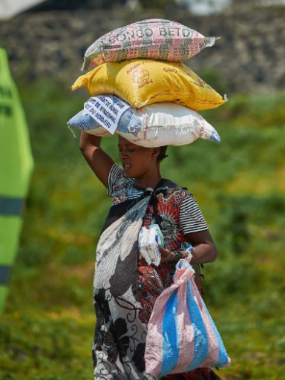 Donated items included bulk quantities of corn meal, casava meal, beans, rice, vegetable oil, and salt. Women's and children's clothing, sleeping mats, mosquito nets, water cans, blankets, eating utensils, and solar lamps were also distributed to the refugees.
The 42-year-old widow (pictured) said, "God bless this church for showing us love even though they don't know us. We suffer and we feel like we are alone. I don't know how I'm going to answer my children's questions when they ask about their father. I would like the chance to bury my husband with dignity. Please continue to pray for us in this situation."
Madame Isabelle Namahoro Gishuba, president of the Bujoga Refugee Camp, said, "I thank the church and Sowers of Hope Congo for these donations. We were in despair, and everyone had forgotten us. May God bless the church a hundredfold."
Members of the Church of Jesus Christ of Latter-day Saints, together with good people of all faiths, grieve at these tragic stories in DR Congo and elsewhere around the world. They do all they can to help relieve suffering by contributing generous offerings to the Church and partnering with many humanitarian organizations.