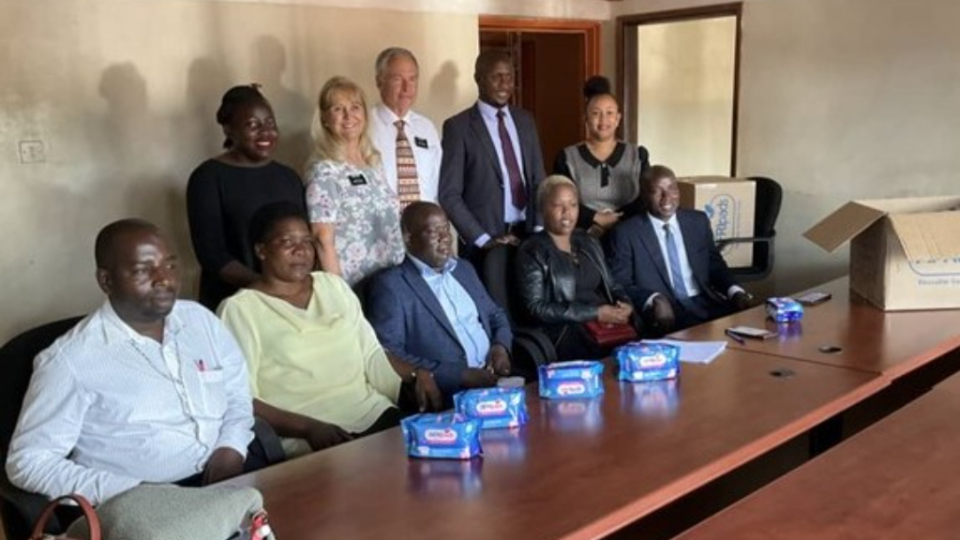 Administrators of the Ndejje Division of the Makindye Ssaabagabo municipality in Uganda noticed that young girls attending the district's schools often missed classes because their families could not afford to buy them sanitary pads during their menstrual cycles.
These public officials turned to humanitarian missionaries of The Church of Jesus Christ of Latter-day Saints for help. Using donated Church aid funds, the missionaries purchased 1500 reusable sanitary pads from a Uganda-based company and presented them to Ndejje Division officials in Makindye Ssaabagabo municipality on January 23, 2023.
These kits will be distributed to girls from families of limited means attending 15 government-aided schools throughout the municipality over the coming months. Officials will monitor distribution and follow up with school officials to see that school attendance improves.
Several important local officials attended the handover ceremony. These included the Honorable Dr Ssonko Shafiq, Chairperson, the Honorable Nakilambi Deborah, Vice Chairperson, Lwanga Ronald, Inspector of Schools, Prossy Kizza, Treasurer, Jumba Ahmed, Assistant Health Inspector, and Aide Kalibbala Katerega, Chairperson of Production, Ndejje Division.
The Church was represented by John Katerega, member of the Kabowa Ward bishopric, Patricia Ekeesit, Communications Director of the Kampala Uganda South Stake, and Church humanitarian missionaries Elder and Sister Bird.
Dr. Ssonko Shafiq, of the division leadership, expressed appreciation for the work of the Church in their area and said the municipality looks forward to more engagement with the Church. Many girls have inconsistent classroom attendance because parents cannot afford to buy them pads and they stay home during their menstrual cycle.
Brother Katerega explained that this donation was made possible by the sacrifices of faithful Church members, who abstain from food one day per month and donate the money they would have spent to the Church for humanitarian projects such as this one. He bore his testimony of the restored Gospel of Jesus Christ and invited participants to attend local congregations to learn more.