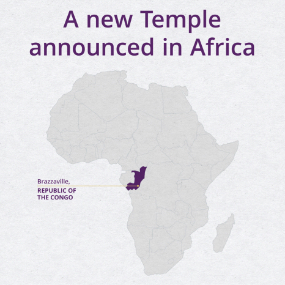 The Republic of the Congo will soon become host to the first-ever temple to be built on its soil. This follows an announcement by President Russell M. Nelson in the concluding session of General Conference on Sunday. The Prophet announced that a temple will be built in Brazzaville, the capital and largest city in the country.
The Brazzaville, Republic of the Congo temple was among 17 new temples that were announced by President Nelson in the session. It is the only new temple on the African continent that was announced.
The Church is growing rapidly in the region, with the first temple dedicated in Kinshasa, the capital of neighbouring country Democratic Republic of the Congo (DRC) just three years ago and two additional temples in the DRC announced since then. The Lubumbashi temple was announced in April 2020, and the Kananga temple was announced in October 2021. The Kinshasa Democratic Republic of the Congo Temple, was dedicated in April 2019.
The Republic of the Congo has over 8,000 members in 29 congregations and has been present in the country since 1990.