Elder Brad Wilcox, Second Counsellor in the Young Men General Presidency, recently visited several countries in Central Africa to minister and strengthen the youth of the Church, as well as their parents and local leaders. Among the countries he visited was Ethiopia, which he once called home for many years.
Elder Wilcox was about five years old when his father and mother, Ray and Val Wilcox, and his siblings moved to Ethiopia.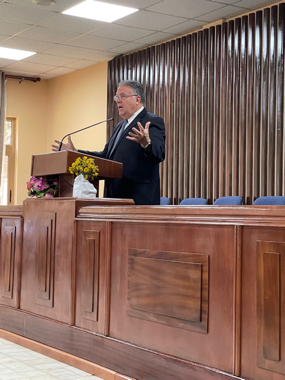 Their move came into being after Elder Wilcox's father was contracted by the US Agency for International Development (USAID) to work with the then Haile Selassie I University, known today as Addis Ababa University in Ethiopia's capital city, Addis Ababa.

During their time in Addis Ababa, the Wilcox family and a small number of Latter-day Saint members who were also contracted by USAID were forbidden from proselyting. Although this was a hard pill to swallow, they had hope.

Years after he had left Ethiopia, Elder Wilcox returned to that country as a General Officer of the Church. While there, he expressed his joy over how the Church had grown in Ethiopia to 1,943 members spanning five branches, one family history centre and one mission.

"I grew up in Ethiopia in the 1960s, and being there was a joy. At the time, there was a small branch of international members who were there to help in that country. There were no Ethiopian members back then, so to come back years later and see how the Church has been established here was a very emotional experience for me," Elder Wilcox said.

"The missionaries were so impressive; they are learning an extremely difficult language and making a difference. The leaders among the members are so devoted, and everyone is giving his or her all. To see two beautiful chapels in Ethiopia and to see them full of people was amazing," he added.

Despite the infancy of the Ethiopia Addis Ababa Mission, Elder Wilcox commended the milestones that it had rapidly achieved.

"The mission is only two years old and, despite COVID-19 and an evacuation to Kenya during some civil unrest, the Church is still growing in Ethiopia. During my recent visit, I saw many young men and women preparing for missions. I saw others who have returned to Ethiopia, having already served there and in other countries, now serving as leaders in the Church. The youth and young single adults (YSAS) are showing their devotion and passion for the gospel, which others around the globe could learn from. I see nothing but a bright future for Ethiopia, a country that I love," he continued.

During the course of his journey around Addis Ababa, one of Elder Wilcox's planned stops was the town of Debre Zeit, where a youth and YSA devotional titled 'Preparing to serve an honourable mission' was held.

Some of the scores of youths and YSAs in attendance shared their feelings about the experience of hearing Elder Wilcox speak.

"A couple of things stood out, but what takes the cup is Elder Wilcox testifying on how faith in God and a firm foundation in His gospel can anchor our lives," one of the youths from Debre Zeit, said.

"Our Heavenly Father loves us very much, and it is through serving His children that we show our love to Him. I am so thankful for the powerful words I heard during the devotion," another concluded.