"Today is not just about eyes. This is about eye care, and the eye is the window of the soul," said Juliet Bal, a Member of the Mayoral Committee (MMC) in the Msukalikwa municipality in the Mpumalanga province of South Africa in June.
Her statement served to welcome a donation from the Church of optometric and cataract surgery equipment to the value of R3.7-million ($257,000) to the Mpumalanga provincial government.
Mpumalanga Member of the Executive Committee (MEC) of Health, Sasekani Manzini -- who oversees the governmental health portfolio in that province -- was there to receive the donation.
"Today, God is answering our prayers through you," she told Church representatives. "When we don't have resources, we just pray and say, 'God will give us resources' and today, we are receiving."
The donation forms a greater network of support provided by the Church to assist the South African government in helping to prevent and treat cases of avoidable blindness through interventions such as cataract surgery.
"Preventing avoidable blindness and visual impairment is both a health and a developmental imperative," explained MEC Manzini. "In fact, the magnitude of visual impairment in Mpumalanga province has potentially far-reaching socio-economic and quality of life implications for the affected individuals, their families and communities."
The excitement of a person receiving this life-altering treatment "can't even [be] measured," she added.
About 88% of the people living in the province are considered poor and rely solely on the public health service to meet their health needs.
To perform these procedures, the correct human resources, consumables, and infrastructure are needed. "This equipment donated by The Church of Jesus Christ of Latter-day Saints will help meet the needs of cataract and refractive surgeries, and eventually contribute to the quality outcome of eye operations in the province," said MEC Manzini. It will "aid in the provision of quality eyecare services."
Thabiso Sehloho, first counsellor in the Johannesburg Mission presidency of The Church of Jesus Christ of Latter-day Saints, in turn, recognized the efforts of the local government. "From the Church, we acknowledge what you do, we thank you for what you do. We are a praying people, and we pray for you," he said.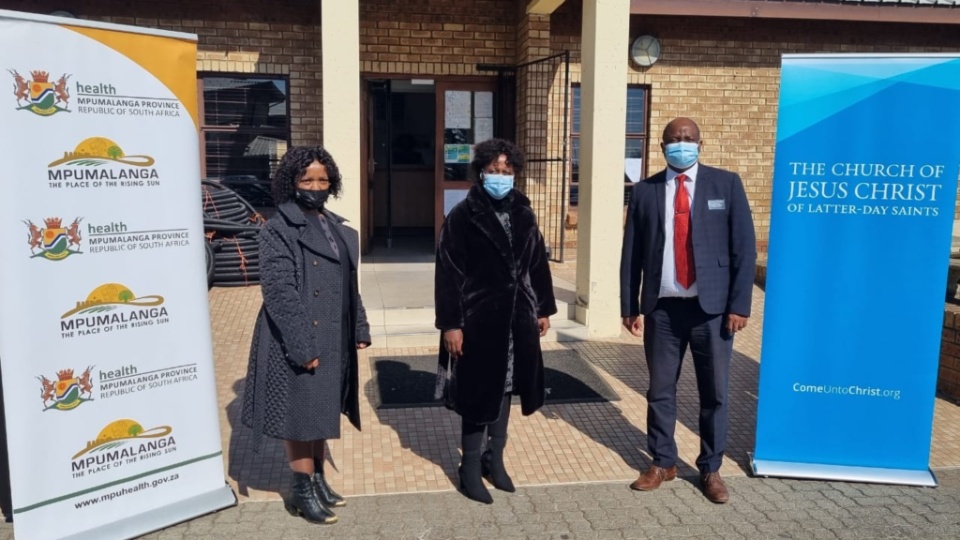 President Sehloho said that the Church sees its humanitarian responses as part of a sacred responsibility.
"As a people, as a Church, we cannot claim the privilege of saying we love God when we forget those who are among us who suffer," said President Sehloho.
"One of the most important things about the message of The Church of Jesus Christ of Latter-day Saints is that there is hope. There is help," he continued. "And if we can get involved in some way offering that help, we are just so grateful for that opportunity and that privilege. We love Jesus Christ, we want to emulate him, and I hope that you see this gesture as one showing the love that we have for Him. We do this because we love the Saviour and because we love you."
Nanana Hlatswayo, Chief Director of the Gert Sibande District Department of Health said, "as a government, we really need the support."
She said the gesture stood as a reminder to all churches to consider what they can do to help and support their communities. "To us, it is a wonderful day; it is a blessed day; we are rejoicing; we are happy that the hand of God has touched us … through the Church."