Written by Thalia Holmes
When Nonhlanhla Shandu surmises what having a wheelchair has done for her, the word that comes to mind is confidence.
Up until 38 years old, Shandu was mobile. Then suddenly, inexplicably, she began to lose the ability to move. "I just became paralysed," she says. "The hospital couldn't find anything wrong with me, so I had to be at home with no assistance." Going from being an independent person to being unable to move was a devastating shift for her.
"You can't even drink water without asking someone for help. You can't even go to the toilet. It makes you feel like you're worth nothing," she says.
Providently, a therapist at her local clinic sourced her a wheelchair sponsored by The Church of Jesus Christ of Latter-day Saints.
"Now that I have a wheelchair, I can do everything," she says. "I cook for myself; I clean for myself. I go to town like anybody else. I have more confidence."
And more than 3,300 people will be able to find that confidence thanks to a R5.4-million donation made by The Church of Jesus Christ of Latter-day Saints. The donation will help continue to fund a long-term mobility programme, in partnership with the KwaZulu-Natal Department of Health, aimed at uplifting and empowering people with disabilities.
It will see 900 wheelchairs and 900 additional mobility devices disbursed to people in need across the South African province.
It will also help sponsor wheelchair repair workshops in rural parts of the province. Manned by disabled people, these workshops provide employment to those who run them and a localized service for people needing their wheelchairs fixed, so that they don't need to travel far in order to be seen to.
Thami Nkosi and Irene Gcwensa from Disabled People South Africa, which oversees the wheelchair repair workshops said, "When the Church came on board, we were in dire need … The team from the Church came to give training to those who run the repair workshops and paid for the tools and spares to all our sites."
There are currently 16 repair workshops operating around the province.
In addition, the Church will train 32 occupational therapists how to correctly assess and fit patients to their devices.
Thulani Doncabe, chief physio at the KwaZulu-Natal Children's Hospital where the handover event was held, explained why this is important for their young patients.
"If you are sitting in an ill-fitting chair, you are prone to dislocation of the hips," he said. "It causes pain on your trunk muscles because you're contracting them in a way you shouldn't be. It also causes a problem with feeding some patients [such as those with cerebral palsy]. There's less communication because most of the time the child is facing down or up; there's no eye-to-eye communication with the parent. So, there's quite a number of implications."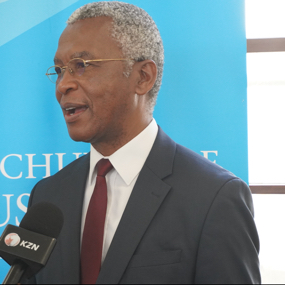 Elder Ephraim Msane, a regional leader from The Church of Jesus Christ of Latter-day Saints, described it as "a holistic programme that not only provides movement for people, but also creates a support infrastructure to ensure that their device is used sustainably."

The acting deputy director-general of the KwaZulu-Natal Department of Health, Ms Penny Msimango, said that the programme would empower people with disabilities in several ways. "Besides educational, economic opportunities and safe development opportunities, [those who are not mobile] are also unable to access the very healthcare that they require," she said. These devices will help to drastically improve those individual circumstances, she said.

Msimango thanked the church for its donation and the longstanding collaboration between the two organisations.

"This public-private partnership between The Church of Jesus Christ of Latter-day Saints and the KZN Department of Health ensures that … we are able to form circles of support and collaborate together in order to provide assistance to the most vulnerable of our society," she said.

"We are extremely humbled by this gesture of the Church, especially because of the huge positive impact it will have."

Elder Msane, in turn, said that the donation was possible because of the generous contributions of members of The Church of Jesus Christ of Latter-day Saints all over the world.

"They give without expecting anything in return. They give in an effort to follow the example of Jesus Christ, who modelled a life of service and goodness," he said.

"As we collaborate, hearts will be lifted, and lives will be touched."