About 12,000 people in the war-ravaged region of Kivu in the Democratic Republic of the Congo will receive food and other critical supplies thanks to a donation from The Church of Jesus Christ of Latter-day Saints. 
The Church collaborated with humanitarian organization Women of Faith to purchase emergency supplies worth about US$300,000 and distribute them to families and individuals affected by the conflict in the eastern region of the DRC this year.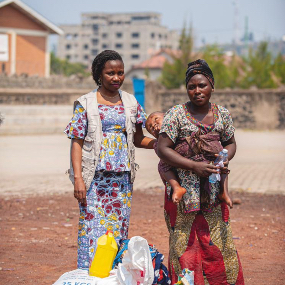 Elima Banze Nadine, national coordinator of Women of Faith, was assisted by Général Sylvain Ekenge, humanitarian aid advisor to the North-Kivu military governor, and Charles Shabani, local representative of The Church of Jesus Christ of Latter-day Saints in Goma, DRC. 
Eighty-seven percent of those displaced by the war were staying with host families. The rest were living in schools and churches. The most vulnerable among those helped were people with disabilities, older adults, pregnant women, breastfeeding mothers, widows, and orphans. 
Each aid kit contained a 25 kg bag of rice, a 25 kg bag of beans, a 25 kg bag of flour, a 5 liter can of cooking oil, salt, sugar, soap, clothing, a mask, and a small amount of money for transportation. 
General Ekenge, the advisor to the governor in charge of humanitarian actions said, "We welcome this act of solidarity done by Women of Faith and The Church of Jesus Christ of Latter-day Saints, in this difficult period of war in this part of DRC. 
"There is no greater gesture of love than to think of those who are suffering. The national and provincial governments are fighting day and night to do everything possible to bring this war to an end. We thank the organization and its donor. We ask other people of goodwill to think of the displaced persons who are still suffering in different locations." 
Distribution took place in multiple churches of different faiths in the area. 
Some of the beneficiaries shared how the project helped them.
Uwamahoro Florence, one of the older adults who received assistance through this project, said, "Eight months after my displacement from my village (Jomba), my family and I were not able to feed ourselves properly due to lack of resources. We thank the Women of Faith organization and its donor The Church of Jesus Christ of Latter-day Saints, who have come to help us with food. May our God bless them. The aid we received enabled us to respond to our basic needs, including food and non-food items." 
Uwimana Biraro Josephine said, "It was difficult for my three children and I to find what to eat, but the assistance of The Church of Jesus Christ of Latter-day Saints and Women of Faith have given us back a smile and hope that we lost for a while."