Elder Ronald A. Rasband, an Apostle of the Lord and one of 15 global leaders of The Church of Jesus Christ of Latter-day Saints, met with the Deputy President of South Africa, Paul Mashatile, on the afternoon of Saturday, April 22.
This marks the first time that a Church leader has met with a government official of this seniority in South Africa. His Excellency Mashatile stands second in command to the President of South Africa.
In the meeting, the leaders reflected on some of the ways in which the Church has helped relieve human suffering and empower the people of South Africa, amounting to R240-million (over US$13-million) worth of assistance since 2018. Donations have ranged from disaster relief to support for youth employment initiatives, subsistence farming programs and gender-based violence interventions.
Elder Rasband said he hoped that these efforts showed that the Church is "here for the long term".
"We do this to follow the Lord's two great commandments – to love God, and love our fellow men. And you, in this case, are our fellow men. We want to be wonderfully connected with you," he said.
As a symbol of that friendship, Elder Rasband shared a personalized copy of The Book of Mormon with the Deputy President.
"The most precious thing that I could give you is this book, which I love. It brings me to Jesus Christ," Elder Rasband told His Excellency.
"This book will help you love your Lord even better."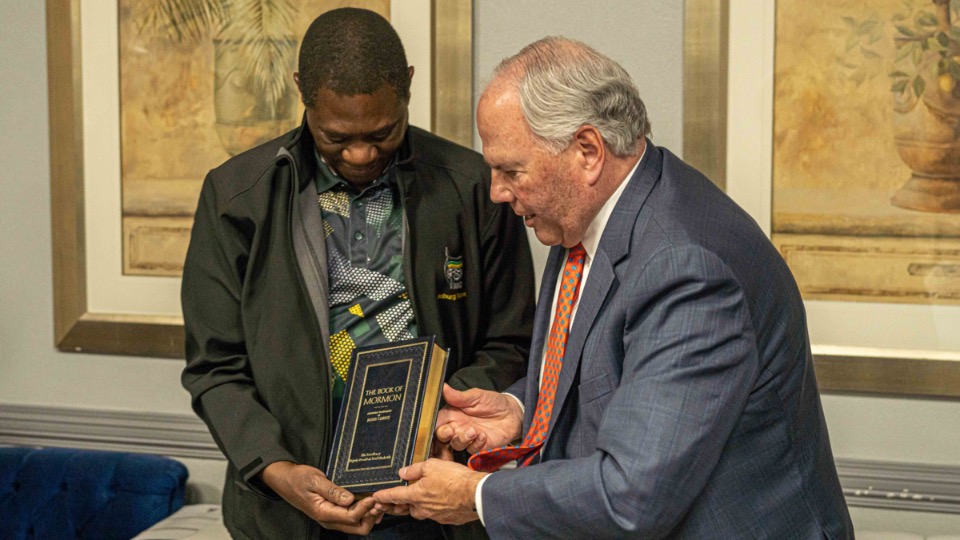 'The Church gives donations that enable self-reliance'
Also present at the meeting was Lesego Makhubela, the chief whip of South Africa's ruling party in the province of Gauteng.
Mr Makhubela, who is a member of The Church of Jesus Christ of Latter-day Saints, said that he had personally seen the good that the organization has done for his home community in Atteridgeville, northwest of Johannesburg.
"The Church's members are anxiously engaged in helping our communities to be more self-reliant," he said. "It believes in not keeping people captive by giving them donations; [rather], it gives donations that enable people to become self-reliant."
In keeping with this theme, Elder Rasband pledged a further R10-million (about US$600,000) to support government efforts in increasing self-employment for youth and women.
Mr Mashatile said he was grateful for the contribution, and said that the Minister of Social Development, Lindiwe Zulu, would help identify the best ways in which to use the funds.
Minister Zulu, who oversees social development, protection for the vulnerable, and welfare services in South Africa, has worked closely with the Church for several years now.
His Excellency said he admired the Church's approach to building communities and its emphasis on building self-sufficiency.
"We want to see this as a partnership," said Deputy President Mashatile. "So, we're not going to sit back and say we are waiting for the Church. We are going in ourselves, together with you; so we can work together and really bring a better life to those who are in poverty and unemployed.
"I'm glad [this collaboration] has started; let's build on that."